The 2nd Annual Ron Cadigan Hockey Tournament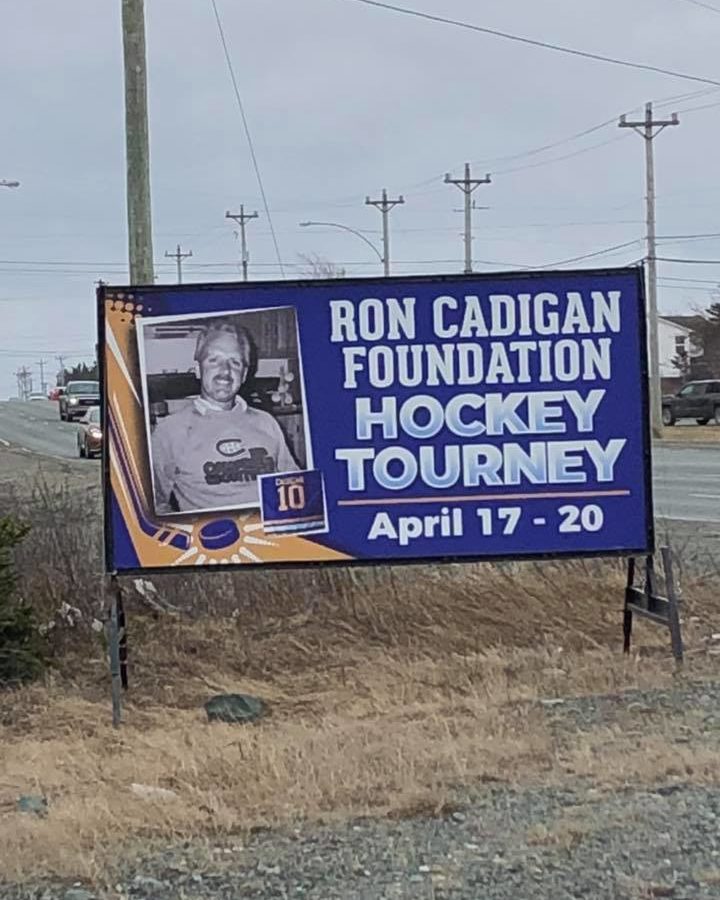 Date: 17 April, 2019 7:00 PM - 20 April, 2019 12:00 AM
Location: Jack Byrne Arena, 7 Kennedys Brook Drive, Torbay
We are happy to announce that The Second Annual Ron Cadigan Tournament will be taking place on April 17- April 20th, 2019. This year we will be taking two more teams for the tournament and priority will be given to those teams that participated in last year's event, a total of 8 teams will be registered.
This is meant as a fun tournament with all calibre of players welcome and encouraged to take part in the event!
Same as last year, the Tournament is to raise funding for the Ron Cadigan Foundation, to provide financial support to families in need of a little extra assistance to get their kids set up to take part in organized sports! Also, to provide funding to aid research to find a cure for neurodegenerative diseases such as MSA and Parkinsons.
50/50 tickets will be 2$ each and 3 for 5$ draws at the beginning of the last game on each day! Prize tickets are 2$ each and 3 for 5$!
This past year, 2018, we were able to make the following donations:
$2,500.00 to The Parkinsons Society of NL
$500.00 to Heart and Stroke – in memory of the Late, Great Val Slaney
Assistance to be provided to a number of families in providing hockey gear in preparation for the upcoming Hockey Season. This information is kept confidential.
Last year's tournament was a great success with so much help and support from the community and volunteers!
We hope this year will bring many of the same faces and hopefully many new ones.
Thank you to our sponsors! 
Division 1
A: Outer Cove Marines
B: Saturday Skate
C: Logy Bat Loggers
D: SES – 2.0
Division 2
E: NTV
F: LB-MC-OC Whalers
G: The Nor Easters'
H: The Regulators
Wednesday, April 17th
7:00 – Outer Cove Marines vs. Saturday Skate
8:00 – NTV vs. LB-MC-OC Whalers
Friday April 19th
3:00 – Logy Bay Loggers vs. SES – 2.0
4:00 – The Nor Easters' vs. The Regulators
5:00 – SES – 2.0 vs. Outer Cove Marines
6:00 – LB-MC-OC Whalers vs. The Nor Easters'
7:00 – Logy Bar Loggers vs. Saturday Skate
8:00 – The Regulators vs. NTV
Saturday, April 20th
11:00 – Saturday Skate vs. SES – 2.0
12:00 – NTV vs. The Nor Easters'
1:00 – Outer Cove Marines vs. Logy Bay Loggers
2:00 – LB-MC-OC Whalers vs. The Regulators
3:00 – Family Skate
4:00 – Semi-Final
5:00 – Semi-Final
6:00 – Draw for prizes
7:00 – Championship Game